FFS MACHINES
¿What are FFS machines?
Thermoforming involves heating a sheet at a certain temperature in order to deform it to fit a mould. The sheet takes the shape of the mould by the difference in pressure between its two sides. After cooling, the desired object is obtained.

FFS machines are widely used in the food industry, including manufacturing of yoghurt cups and in packaging other dairy products, as well as in non-food applications, such as blister, pharmaceutical, and electrical batteries packaging.

FFS machines consist of a forming unit, a filling unit and a sealing unit, where a film is sealed onto the cup, typically by a high-temperature electrode. The lidding film is often made of a paper-aluminium compound, or of metallic PET. The manufacturing speed is high. One can obtain, as in the case of yoghurt pots, up to or exceeding 40.000 cups/hr.

For food packaging requiring extended shelf-life, container sterilization may be necessary. Some machines manufacturers have developed systems that incorporate Hydrogen Peroxyde treatment to achieve the required sterilization.

FFS technologies are ideal for mass product packaging. Typically, these systems allow high productivity and economies of scale, while preserving an eco-balance.

You can obtain more information on the websites of FFS machines manufacturers:

ERCA-FORMSEAL ,BENCO PACK, BOSCH, ELTON-MECAPLASTIC, HASSIA, MULTIVAC, NEWPACK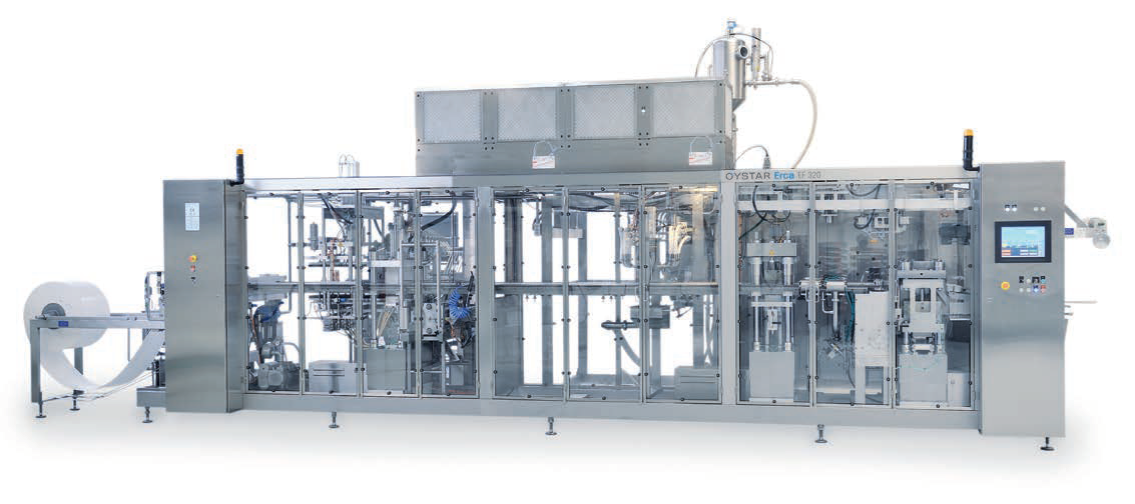 ERCA EF320
FFS MACHINES
FFS Machines process
PLASTIC SHEET

Positioning of reel or pedestal.
HEATING PLATE

Direct contact or by infra-red radiation , the plate elevates polystyrene to a temperature of 120°-150°C.
FORMING UNIT

When the pneumatic or electrical punch pre-draws the sheet, the plate over the mould cools and the shape coagulates.
DISPENSER

Various technologies allow filling the shapes with different products (milk, yoghurts, cereals, toffee...).
SEALING UNIT

"sealing the cups". A heated electrode (150°-220°C) electro-plates the lidding material on a small surface, creating a furrow in the plastic sheet.
MARKING

"Indicating sell-by date".
CUTTING STATION

Two types, "hammer/anvil" or "punch/matrix", it forms packs of 4, 6 or more. Pre-cuts the sheet to facilitate separation by the consumer.
LIDDING MATERIAL

Roll of ready-for-cutting lidding material.
EXIT

The cup packs are filled, sealed with the lid material and pre-cut. They can now be packaged for the end-user.